Aquarium Parts

Automatic Heater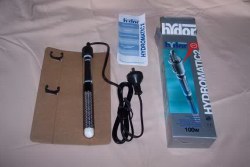 BRAND NEW, HYDROMATIC2, AUTOMATIC AQUARIUM HEATER, 100W, 10 INCH. Fully submersible.
Would suit brewing hobbies also.
Features: overadjustment protection system, digital temperature indicator allows accurate setting in steps of 0.5 C, indicator lamp, Star-shaped ceramic element.
Full instructions included FULL WARRANTY GIVEN (for faulty product, not breakage or misuse). 230 VOLTS, 50 Hz - suitable for Australian and New Zealand electricity supplies.
$45.00 plus $5.50 postage within Australia.