DESCRIPTION AND APPLICATION
The Surewater Still extracts pure fresh water from any water supply by solar distillation.
No external energy supply is needed to produce or move the water to storage. This system is therefore appropriate for remote areas.
The water source may be sea water, saline bore water or lake water.
The still is modular and can be built to any capacity in stages as required.
Most applications will involve the production of potable water in isolated areas.
DISTILLATION PROCESS

The modules are 2 metres by 1 metre and are set out in rows end on end and connected by pipes. Feed water covers the base of each module at a controlled level.

As the sun heats the water, vapour condenses on the underside of the module canopy, runs down to a collection channel and is stored in an underground tank.

The feed water is periodically dumped at night to an evaporation pan to purge the system.
PRODUCTION
Production volumes vary with weather conditions and seasons and sufficient storage is required to buffer daily variations.
MAINTENANCE
Minimum maintenance is required, all controls are 12 volt DC powered from solar panels on site and automatically programmed. The system can be left unattended for weeks at a time.
The working life of the modules which are made of U.V. stabilised plastics is expected to be a minimum of 7 years (the plastics manufacturers state 10 years).
Costing will vary upon the size and location of the installation.
Surewater Australia welcomes any enquiry and would be able to quote on an installation once details are known.
APPLICATIONS
Drinking, Washing & Cooking
Hospital / Medical uses
Laboratory water
Battery & Radiator water
Printing water supplies
Photographic development
Hydroponics.
SITE REQUIREMENTS

The system requires

* A level area without shade.

* An animal proof perimeter fence is essential to protect the system from damage.

* A suitable volume of source water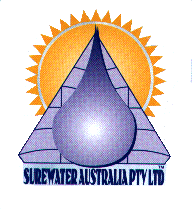 ENQUIRIES
82 Shipsters Rd. Kensington Park
South Australia 5068
Contact the Marketing Manager, Andrew McEwin on :
Telephone: +61 8 8361 3450
STD 1800 641 662
Facsimile: +61 8 8361 3452
Site Maintained By 4D Manufacturing Services, Kadina South Australia